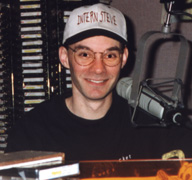 Intern Steve
Sunday, 11 p.m. to 1 a.m.
You won't hear Intern Steve on the air. Well, not very often, anyway. While Leah Miller spotlights local talent on Leah's Local ZONE, Intern Steve can be found running around the studio acting as greeter, roadie and photographer. And, he spends a lot of time answering your calls on the request lines.
Here are some recent pictures taken by Intern Steve of bands on Leah's Local ZONE:
The Penny Drops
Gilbert Garcia, Thomas Bond, Mark McDowell, 2; Thomas; Thomas, Mark; Andrew Lockwood, 2; Nick Pasco, 2; Everyone (Mark, Thomas, Nick, The ZONE's Leah Miller, Gilbert, Andrew), Set list
Sugar High
Adrian Evans, Jason Garcia, Pat Singleton, Sean Gens
The return of...Roger Clyne & The Peacemakers
Roger Clyne, Scott Johnson, Steve Larson, Danny White, PH Naffah, Roger, Scott, Steve, Danny
Set list
Steve Larson
1, 2, 3, 4
Set list
Carrie Johnson
1, 2, 3, 4
Stephen Ashbrook
1, 2, 3
Plinko
Jason Urias, Chris Ceimo, 2, 3; Anthony Gomez, 2
Stuart's Folly
Brian Stewart, Tobey Ashcroft, Spartacus Jones, 2, 3; Jay Klepinger, 2
The Piersons
Patti Sedillo, Jimmy Campisano; Patti, Jimmy, Scotti Moore; Scotti; Tony Chadwick, 2; Everyone (Jimmy, Scotti, The ZONE's Leah Miller, Patti, Tony)
Beat Angels
Clockwise from bottom: Scotti Moore, Michael Brooks, Brian Smith, Keith Jackson; Jeff Bourne, Scotti Moore
Superordinary
Patrick Kallestad, Arlen Dagley, David M. Texidor, 2; Mike DiFrancesco
Flathead
Greg Swanholm, 2; Kevin Daly, 2; Vince Ramirez, 2
Casual Alien
Don Boles, Chuck Fenigstein; 2
Ghetto Cowgirl
Marc Norman, Thomas Laufenberg; 2
The Robies
Pete "D15" Difilippantonio, Nate Shivers, Mat Hammond; Pete, Nate, Mat; Steve O'Boyle; Set List
ClockPeople
Michael Lopez, Scott Staley, Lance Reynolds and Greg Calabrese; Michael, Scott and Lance; Michael, Scott, Lance and Greg
Clare Voyants
Shea Veno, Jane Hilton, Billy Brett; Jane, Billy, Paul Knight
Niner
Shamsi and Jamal, 2, Set List
Click here for pictures of Leah's Local ZONE Take One CD Release Party and prior performances.
Click here for the Leah's Late Night Drive Thru 2 Year Anniversary Top 20 Most Requested Bands list.
Click here for a New Times article discussing the end of Leah's Local Zone.
Click here for the New Times "Best of Phoenix 1999" "Best DJ" article. Who else?!
Click here for a sample of Leah Miller's post-Zone work in Get Out
Click here for an article in Sweat Magazine that quoted Intern Steve. (It is very wide, so you may need to disable "Automatic Image Resizing" in Internet Explorer by going to Tools, Options, Advanced, Multimedia.)
Here's a look at The ZONE's Production Room #3, where Intern Steve spends a lot of time preparing Classic Tracks for Leah's Local ZONE.
Here are some other pictures taken by Intern Steve of bands in The ZONE:
Chris Isaak
Kenny Dale Johnson and Chris Isaak: 1, 2, 3, 4
Dishwalla
Rodney Browning-Cravens and Scott Alexander, J. R. Richards, Rodney, Scott and Jim Wood, Jim and George Pendergast,
Everyone (Front: Rodney, J. R., Scott; Back: The ZONE's Kevin Mannion and Laura K. Smith, George, Jim)
Toad the Wet Sprocket
Before the 1997 H.O.R.D.E. show (Randy Guss, Todd Nichols, Dean Dinning, Glen Phillips)
Oh, and no page of information about Intern Steve would be complete without a mention of his favorite concert experience. It is an amazing story! You can read more about his Toad the Wet Sprocket obsession at his web site for them or at the gold record site.